Ingredients
0.5 oz (15 ml) Finest Call Orgeat Syrup
1 oz (30 ml) apple brandy
1 oz (30 ml) light rum
0.5 oz (15 ml) 151 proof rum
2 oz (60 ml) orange juice
1 oz (30 ml) lemon juice
Directions
Combine all ingredients in a Boston glass filled with ice. Shake and strain into a chilled martini glass. Float 151-proof rum on orange zest and ignite if desired.
Glass

Martini/Cocktail Glass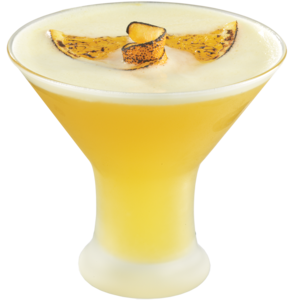 Featured Product
Orgeat Syrup
This specialty syrup combines premium almond flavor with a smooth, sweet base that makes it perfect for your scratch mai tais and more. A must have for specialty cocktails and a great addition in the kitchen for a light almond touch to any dish.
SHOP NOW