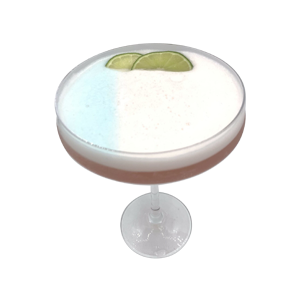 Finest Call Fleur de Rose
Ingredients
1 oz (30 ml) Finest Call Pomegranate Syrup
1.5 oz (45 ml) Finest Call Lime Juice From Concentrate
1.5 oz (45 ml) Finest Call Bar Syrup
1.25 oz (37 ml) applejack
1 egg white
2 dashes lavendar bitters
Directions
Combine ingredients in a mixing glass and dry shake. Add ice, shake and strain into a chilled glass.
Glass
Martini/Cocktail Glass
Featured Product
Pomegranate Syrup
One thing is clear – pomegranate is more than an exotic fruit fad. This tart superfruit has gone from hot trend to menu superstar. Finest Call Pomegranate Syrup contains real pomegranate juice so the fruit's natural flavor shines through in your cocktail. Use it to effortlessly create your next signature drink or spice up your teas, lemonades or sparkling water.

Check out other recipes using Pomegranate Syrup