Ingredients
2 oz (60 ml) Finest Call White Sangria Juice Blend
1.5 oz (45 ml) brandy
0.25 oz (7 ml) maraschino liqueur
0.5 oz (15 ml) lemon juice
Garnish
Lemon Zest, Cherry And A Lemon-sugar* Rim
Directions
Combine all ingredients in a Boston glass filled with ice. Shake and strain into a chilled martini glass.
Glass

Martini/Cocktail Glass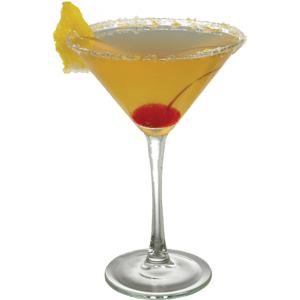 Featured Product
White Sangria Juice Blend
What could possibly be better than a nice glass of white wine? Try a nice glass of white wine infused with a tantalizing combination of refreshing fruit juices and served over the rocks! Finest Call White Sangria Juice Blend features banana, peach, grape, lemon, lime, and pear juices, all blended to perfection and designed to create a heavenly white wine cocktail!
SHOP NOW