Ingredients
2.5 oz (74 ml) Finest Call Bloody Mary Extra Spicy Mix
1.25 oz (37 ml) cachaca
0.25 oz (7 ml) horseradish
0.25 oz (7 ml) celery salt
1 oz (30 ml) grenadine
0.75 oz (21 ml) lime juice
Directions
Combine all ingredients in a Boston glass filled with ice. Shake and strain into a rocks glass with ice.
Glass

Rocks Glass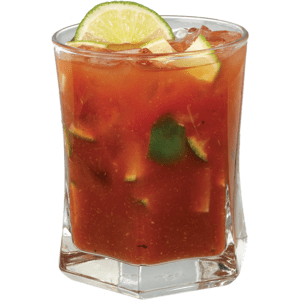 Featured Product
Extra Spicy Bloody Mary Mix
We started with a classic Bloody Mary full of pure tomato juice, celery, garlic, onion, and savory spices and then brought the heat with a splash of habanero pepper – one of the hottest peppers known to man. This Bloody Mary is sure to put the spirit back in in your step. Enjoy it straight or with vodka.
SHOP NOW