Ingredients
0.5 oz (15 ml) Finest Call Triple Sec Syrup
1 oz (30 ml) cinnamon whiskey
0.5 oz (15 ml) fernet branca
dash Angostura bitters
dash Tabasco
3 oz (90 ml) apple cider
0.5 oz (15 ml) pumpkin syrup
Garnish
Sugar Rim, Orange Zest, Sprinkle Of Nutmeg And Cinnamon Stick
Directions
Combine first six ingredients in an empty Boston glass. Shake and pour into a coffee glass. Fill with hot cider.
Glass

Specialty Coffee Mug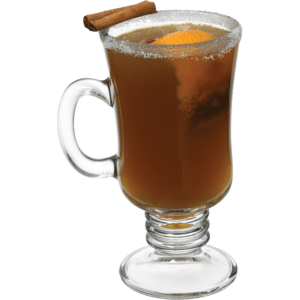 Featured Product
Triple Sec Syrup
This blend of natural orange extracts and natural sweetener provides all of the orange flavor you need at a fraction of the cost. Easily substitute this alcohol-free triple sec in place of your liqueurs for the same great taste and added profitability.
SHOP NOW