Ingredients
3 oz (90 ml) Finest Call Citrus Sour Mix
1 oz (30 ml) Reál Cocktail Ingredients Coco Reál
1.5 oz (45 ml) rum
1 egg white
2 oz (60 ml) soda
2 oz (60 ml) whipping cream
Directions
Combine rum, egg white, whipping cream and Coco Reˆl in a mixing tin and spindle mix for 2 minutes. In a tall/collins glass add one large cube of ice. Add in 1 oz Finest Call Premium Juice Citrus Sour and 2 oz soda water. Pour spindle mixed ingredients over ice. Let settle at the rim and poke a hole. Pour remaining mixture over foam to raise foam out of glass.
Glass

Tall/Collins Glass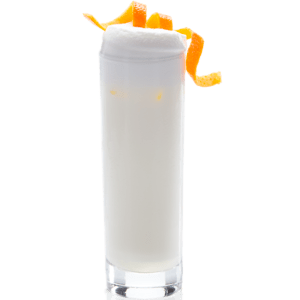 Featured Product
Premium Juice Citrus Sour
Versatility is the key to the new Finest Call Premium Juice Citrus Sour – an even blend of single-pressed lemon and lime juices rounded out with premium orange juice. Citrus Sour features cane sugar, a touch of agave nectar and all-natural colors and flavors. This delicious product can be used as the base for a top shelf margarita as well as function as a premium sweet & sour mix.
SHOP NOW