Ingredients
1.5 oz (45 ml) Finest Call Huckleberry Syrup
5 oz (150 ml) Finest Call Margarita Mix
1.5 oz (45 ml) silver tequila
6.5 oz (195 ml) water
Garnish
Blueberries In Popsicle, Mint Sprig And Lime Slice
Directions
Build all ingredients in order in a popsicle mold. Freeze overnight. To release popsicles run hot water on the outside of molds for 2-3 seconds.
Glass

Tall/Collins Glass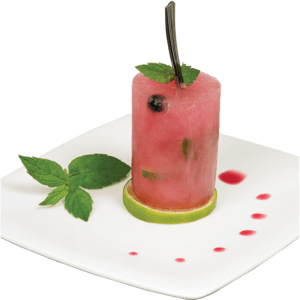 Featured Product
Wild Mountain Huckleberry Syrup
The huckleberry tastes similar to a blueberry but more robust and complex with a slightly more tart note. Distinctive for its rich purple color and high anti-oxidant level, this Northwest berry can help create a colorful twist on numerous classic cocktails.
SHOP NOW