Ingredients
3 oz (90 ml) Finest Call Lime Sour Mix
1 oz (30 ml) moonshine
0.5 oz (15 ml) triple sec
3 dashes Tabasco jalapeno sauce
Garnish
Lime And Orange Slices And Jalapeno
Directions
Combine all ingredients in a mason jar filled with ice. Cap, shake and serve.
Glass

Mason Jar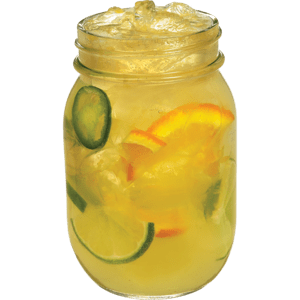 Featured Product
Premium Juice Lime Sour
Do you want the fresh taste of hand squeezed lemons and limes in your margarita? Premium Juice Lime Sour features a heavy emphasis on single pressed Persian lime juice and is rounded out by a hint of single pressed lemon juice and premium orange juice. The product uses a blend of cane sugar and agave nectar and features all-natural colors and flavors.
SHOP NOW