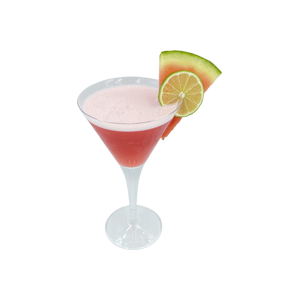 Finest Call Watermelon Cosmopolitan
Ingredients
2 oz (60 ml) Finest Call Cranberry Juice Cocktail
1 oz (30 ml) Finest Call Watermelon Puree Mix
.5 oz (15 ml) Finest Call Single Pressed Lime Juice
1.5 oz (45 ml) Citrus Vodka
Directions
Combine ingredients in a mixing glass filled with ice.
Shake and fine strain into a chilled martini glass.
Garnish
Watermelon And Lime Wheel
Glass
Martini/Cocktail Glass
Featured Product
Cranberry Juice Cocktail
Introducing Finest Call Cranberry Juice Cocktail, an always refreshing, bright, tart cocktail mixer your bar didn't know it needed! Bursting with 27% fresh juice and cane sugar, this flavor creates everything from the no-frills vodka-cranberry to the more classic sophisticated cocktails like Cosmopolitans and Sea Breezes!

Check out other recipes using Cranberry Juice Cocktail