Ingredients
1 oz (30 ml) Reál Cocktail Ingredients Coco Reál
0.5 oz (15 ml) Finest Call Lime Juice
2 oz (60 ml) Finest Call Banana Puree
1.5 oz (45 ml) vanilla rum
Garnish
Graham Cracker Crumb Crust And Coco Reˆl Whipped Cream*, Mist Of Chocolate Bitters
Directions
Combine all ingredients in a mixing glass filled with ice. Shake and strain into chilled glass. * Combine 2oz Coco Reˆl with 2 oz heavy whipping cream and two dashes of chocolate bitters in a shaker tin. Shake until cream thickens and spoon over the top of the drink.
Glass

Martini/Cocktail Glass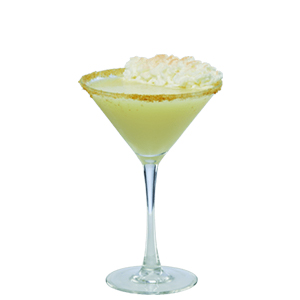 Featured Product
Lime Juice
West Indian limes give our 100% pure Lime Juice the perfect touch of acidity and soft floral aroma that make it a bar staple used in countless cocktails from a scratch margarita to a gimlet.
SHOP NOW