Ingredients
3 oz (90 ml) Finest Call Premium Bloody Mary Mix
1.25 oz (37 ml) vodka
1 pinch celery salt
3-5 - fresh herbs
1 - serrano chili pepper
0.5 tsp horseradish
0.5 oz (15 ml) lime juice
Garnish
Fresh Ground Spice And Salt Rim, Serrano Slices, And Fresh Herbs
Directions
Combine all ingredients in a Boston glass filled with ice. Roll contents between shaker tin and Boston glass three times. Pour into serving glass.
Glass

Rocks Glass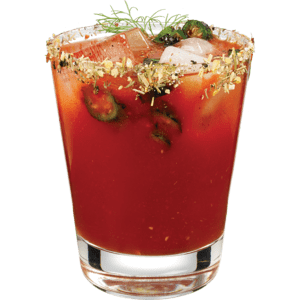 Featured Product
Premium Bloody Mary Mix
This premium blend is based on the same scratch recipe that brought the Bloody Mary worldwide fame nearly a century ago – tomato juice, black pepper, pure lemon juice, and a delicious blend of savory spices. Why mix 10-12 ingredients for a single cocktail when Finest Call brings them all together in one Bloody Mary mix?
SHOP NOW