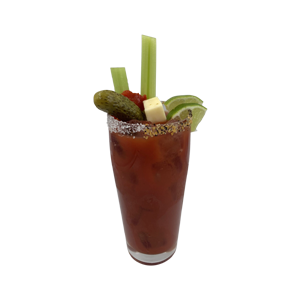 Finest Call Premium Bloody Mary
Ingredients
4 oz (120 ml) Finest Call Premium Bloody Mary Mixer
1.5 oz (45 ml) vodka
Directions
Build ingredients in a glass over ice. Stir, garnish and serve.
Garnish
Salt/Montreal Steak Spice Rim. Skewer Of Fresh And Pickled Fruit, Herbs And Vegetables
Featured Product
Premium Bloody Mary Mixer
This premium blend is based on the same scratch recipe that brought the Bloody Mary worldwide fame nearly a century ago – tomato juice, black pepper, pure lemon juice, and a delicious blend of savory spices. Why mix 10-12 ingredients for a single cocktail when Finest Call brings them all together in one Bloody Mary mix?

Check out other recipes using Premium Bloody Mary Mixer