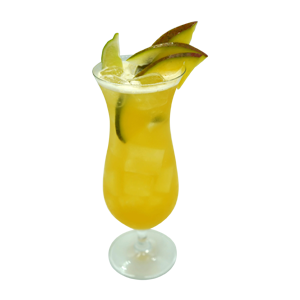 Finest Call Tropical Sinner
Ingredients
1 oz (30 ml) Finest Call Mango Puree Mix
3 oz (90 ml) Finest Call Mai Tai Tropical Juice Blend
1 oz (30 ml) spiced rum
0.5 oz (15 ml) cinnamon whiskey
oz (0 ml) Aperol
Directions
Combine ingredients in a mixing glass filled with ice. Shake and strain over fresh ice. Float Aperol.
Garnish
Lime And Mango Slices
Featured Product
Mango Puree Mix
We searched the globe until we found the mango variety with superior flavor and balanced sweetness – the "King of Mangoes"! We blend pureed Alphonso mangoes with a touch of all-natural sweeteners for a refreshing tropical treat.

Check out other recipes using Mango Puree Mix